MORE WAYS TO LISTEN LIVE
https://yimago.torontocast.stream/world
http://yimago.torontocast.stream/world2
Welcome to the official website of Yimago World, the world music channel, playing authentic international music from all over the world. We present a wide selection of great pieces, many coming from the renowned "Putumayo Presents" collection. If you like our station, tell your friends, listen often, and share the station on social networks. Thank you for listening!
OUR PROGRAMS (ALL TIMES EASTERN / UTC-6)
African Expressions
Monday from 7AM until 10PM
Music and rhythms of the African nations. You will hear afropop, soukous, african beat, and other pieces with latin, jazz, blues, hip-hop and reggae influences that are very popular on the continent.
The Musical Odyssey
Tuesday from 7AM until 10PM
Our Tuesday program presents an eclectic music discovery of the diverse cultures of Asia, the Middle East, North Africa, Australia and the Pacific islands.
Yimago's Bistro
Wednesday from 7AM until 10PM
Yimago's Bistro
is our North American music program. Every Wednesday, we play singers and songwriters with genres that include folk, blues, cajun, zydeco, bluegrass, island escapism, americana, french canadian and native american music.
European Cafés
Thursday from 7AM until 10PM
On our Thursday program, you will hear the kind of local folk/world music you would hear as a background in coffee houses and restaurants of Europe.
Friday Fiesta!
Friday from 7AM until 10PM
It's Friday! And it's time for a fiesta with the warm latin and tropical sounds of salsa, rumba, bossa nova, samba, zouk, reggae, calypso, and music from Latin America and the Caribbean islands.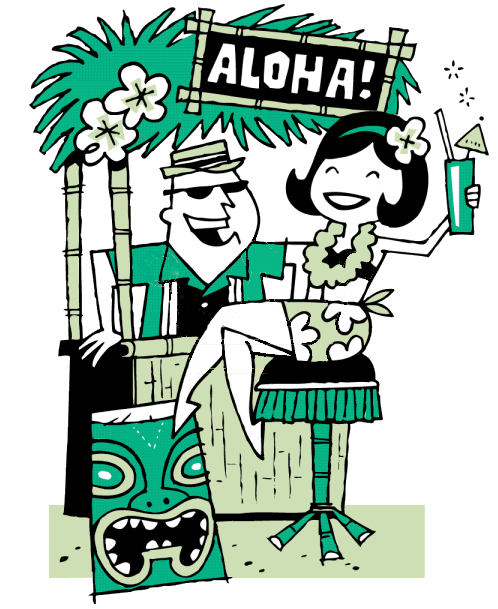 The Aloha Weekends
All day Saturday
All day Sunday
Imagine yourself on vacation on your favorite island, sitting at a tiki bar, lounging around the pool or eating at a great restaurant while listening to great contemporary and traditional Hawaiian music. We propose everything Hawaiian from authentic traditional chants and folk songs to contemporary Hawaiian folk and pop, and the great masters of ukulele and slack key guitar from yesterday and today. We feature the greatest Hawaiian artists like Israel Kamakawiwo'ole, The Brothers Cazimero, Na Leo Pilimehana, Cecilio & Kapono, Ekolu, Kawika Regidor, Josh Sumibcay, Hui Ohana, Ka'au Crater Boys, Opihi Pickers, Robi Kahakalau, Mark Keali'i Ho'omalu, Hawaiian Style Band, Hapa, Keahiwai, Keali'i Reichel, Makana, The Mana'o Company, Dennis Pavao, Daniel Ho, Baba B. and many others including selected tracks from prominent Hawaiian pop artists like Bruno Mars and Jack Johnson. We also play some great songs from movie soundtracks like
The Descendants
that feature Hawaiian artists.
Putumayo Nights
Week nights from 10PM to 7AM
Celebrate the world with us every night of the week as we play tracks coming exclusively from our
Putumayo Presents
world music collection. Putumayo is the quintessential international music label known for its compilations featuring playful album covers by artist Nicola Heindl.